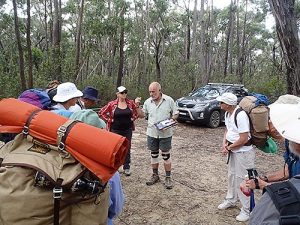 When leaders are planning their activities, they take into account factors such as transport, weather, distance and duration of the activity, including morning tea and lunch breaks.  Please refrain from requesting changes to the itinerary as it places undue pressure on the leader and other participants and the whole day's schedule is affected.
Non-members are very welcome to attend two one-day activities before deciding if they will join our club.  If you wish to bring a friend, it is essential that they are registered with the leader as there is often a limit on numbers.
If you have registered for an activity and find you are unable to attend, please advise the leader as soon as possible as another member may be able to take your place.  This is particularly important in the case of trips away which are always very popular.  Your early advice that you cannot attend gives those on the waiting list more time to make their own plans and secure accommodation.  On day activities it will avoid unnecessary delays in starting.
Following these guidelines will give leaders the encouragement and respect they deserve and will ensure that our club's activities can be enjoyed by everyone.